Mobile Units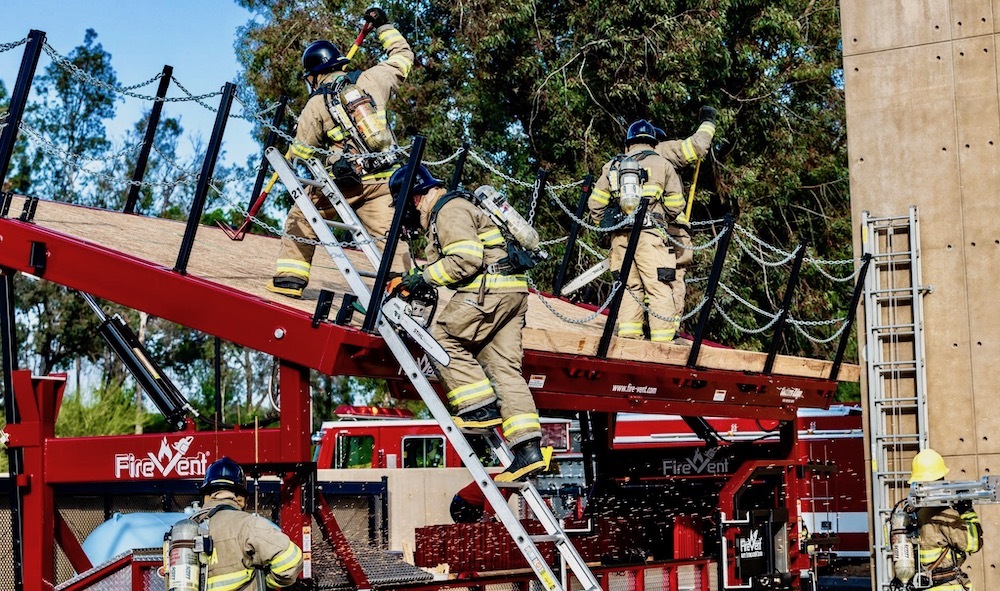 Mobile-Versatile-Affordable
Our mobile units have a very unique, innovative and fully patented design that allows the props to open and close, from the traveling position to the training position, with the use of two heavy-duty hydraulic cylinders. The same hydraulic cylinders are then used to raise and lower the roofing platform to the desired pitch for training.
Mobile FireVent units can be equipped to be "self contained" with everything needed for training; saws, ladders forcible entry tools etc. This is very beneficial so that no equipment is taken off of first out engine companies, which may delay response times. When firefighters are dispatched to a call they can leave the unit quickly without having to put equipment back into service. Mobile FireVent units can easily be moved from station to station, enabling duty crews to train between calls and when it is convenient for them.
Mobile FireVent units are much more than just ventilation props; the are multi-discipline training units. There are three base model units that can be customized and configured with numerous options to meet your department's needs (see Available Options menu).
3 models:
Compact Model, 16ft x 12ft roofing platform
Standard Model, 20ft x 12ft roofing platform
Academy Model, 24ft x 12ft roofing platform
Construction, all models:
Made in the USA
Steel of US origin (mill certificates available)
All tubular steel construction.
Trailer custom made and integrated with prop.
Aluminum diamond plate sides.
Sprayed on heavy duty "Scorpion" bed liner.
All LED warning and signal lighting.
6K or 7K (dependent on model) tandem axles with electric brakes on each.
Black steel heavy duty 8 lug wheels.
Steel belted 14 ply tires.
Spare tire included.
Bumper pull hitch with adjustable height, ball or pintle standard, gooseneck available.
BlueOx SwayPro weight distribution hitch.
7 pin electrical connection to tow vehicle.
12K tongue jack with drop leg, hydraulic tongue jack available.
8K side jacks (outriggers) with drop legs.
110v shoreline built into the frame of trailer
Standard paint color "cobalt red" (custom colors available)
Accessory parts that are attached to the trailer are all powder coated.
"Big Foot" outrigger pads with slid-in storage trays.
Specifications & Features, all models:
Weight unladen approx; Compact Model 6,800lbs. Standard Model 7,800lbs. Academy Model 9,400lbs.
Load capacity approx; Compact Model 5,200lbs. Standard Model 4,200lbs. Academy Model 2,600lbs.
Gross weight capacity all models 12,000lbs. (all models have 6K axels giving them a capacity of 12K)
Tongue weight approx.: Compact Model 800lbs. Standard Model 900lbs. Academy Model 1,000lbs
Overall length; Compact Model 23ft, Standard Model 27ft, Academy Model 31ft.
Tow vehicle: minimum size 3/4 ton pick up or greater, no special equipment needed.
Width on all models (closed transport position) 8ft.
Height on all models (closed transport position) 10ft 6in.
Roofing platform height 9ft (flat position)
Rub rail and anchor tie off around the perimeter of platform.
Variable pitch, flat to 12/12 (hydraulically controlled)
12v hydraulic system standard.
Heavy-duty 3000 psi dual hydraulic cylinders.
4500 psi hydraulic hoses throughout.
Equipped with Bridon "Load Control" hydraulic valves.
Diamond plate storage box for hydraulic pump standard, built-in lockable storage compartment available.
Safety post/chain system around the perimeter of roofing platform.
Engineered for a live load of 1,800 lbs. (all models) on roofing platform at any pitch.
Engineered for wind load of 60 mph at any pitch (all models).
Basic tool kit included.